---
MGB Tire Pressures
---
To buy tires for your MGB see our MGB Tires page.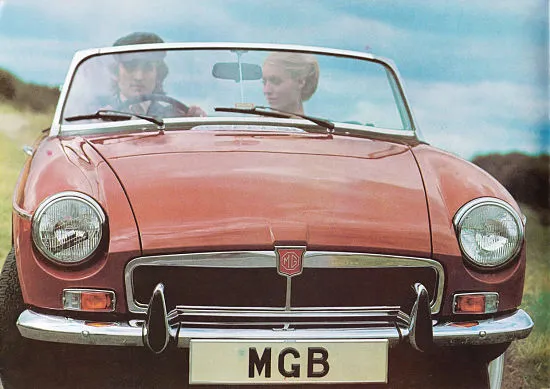 MG MGB Dutch Brochure
Tire pressure for an MGB ranges from 18-31 PSI depending on the specific model, the type of tires that you decide to fit, and pressure differences for front and rear tires.
To find the ideal tire pressures for your car's year, model, and chosen tires follow the link to our Tire Pressure Guide.

---

The earliest MGB originally fitted 560-14 crossply tires. Later the MGB moved onto 165 HR 14 PIRELLI CINTURATO CA67, which are available today.
To find out more information on MGB tires follow the link to our MGB Tire Section.

---

Some MGB were fitted with Route Borrani Wire Wheels, for more information follow the link to view our Borrani Wire Wheel Section.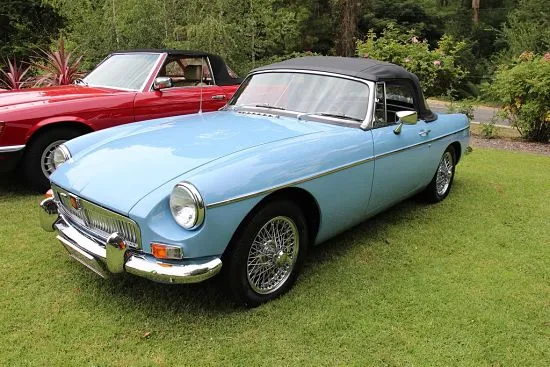 MG MGB on Borrani Wheels
---
MGB Tires
---
There are two good tire options for the MGB. It is worth mentioning that MG chose to fit their MGB and MGB GT model cars with a 165R14 tire. They could have fitted wider, lower profile tires from 1968 onwards but they chose not to because the car handled at its best fitted with a 165 section tire.
We would suggest that the best tires would be the 165HR14 Pirelli Cinturato CA67, which was the original equipment. However the Michelin 165 HR 14 XAS is also an excellent period tire that will work well at high cruising speeds on dual carriage ways.
Many people will want to fit a wider tire of which we would strongly recommend not going any wider than 185/70VR14. And the best tire would be 185/70VR14 Pirelli Cinturato CN36, because the tire carcass is designed to work alongside a chassis design like the MGB. If you go lower profile than 70 profile then you should not fit innertubes. And anything wider the 185 will spoil the handling.
---
MGB V8 Tires
Tire recommendation for the V8 version of the MGB is simple. Michelins 175HR14 XAS is the perfect tire for the MGB V8. A larger section tire will not handle as well.
---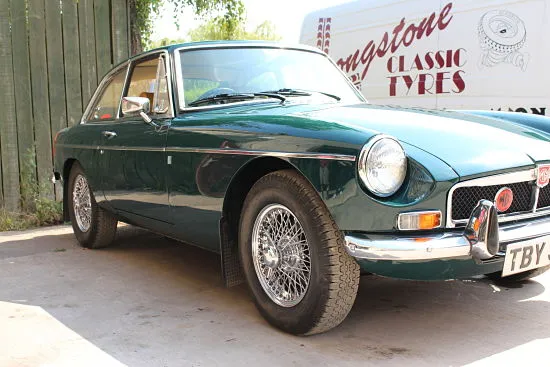 MG MGB at Longstone
MGB Innertubes
---
Wire wheels were always fitted with innertubes in period. The rim itself is not sealed, because the spoke heads come through the rim. This is not just on the MGB and the MGB GT. All cars fitted with wire wheels fitted innertubes. Today there are wire wheels built that profess to be tubeless, however in our experience these wheels often fail, and we always fit innertubes in wire wheels. Regardless of weather you have an MGB GT or the roadster MGB fitted with wire wheels we strongly suggest fitting a good innertube, we suggest the Michelin 14D, which can be bought through the innertubes link above.
However, in the case of the MGB, they did primarily fit innertubes on cars, fitting 4"X14 or 4.5"X14 Rostyle wheels as well as the wire wheels, all needing an innertube. Today's premium 165R14 tires are made as tubeless tires, but this simply means they can be fitted tubeless on a wheel that is suitable to be used without an innertube.
As you can see from the1974 Michelin tire fitment guide, all of them are listed as requiring innertubes. Although the MGB GT V8 has the 5" rim and is tubeless, the Dunlop installation guide indicates that all MGB and MGB GT need innertubes. Although smaller rims should accommodate innertubes, the later 1977 Michelin fitting guide also confirms that the 5" wide wheel had a tubeless rim.
---
MGB Wire Wheels
---
Wire wheels were fitted on some MGB models, and Longstone is fortunate to work with the finest in the industry. Throughout the years, Ruote Borrani Milano has provided wire wheels to a variety of well-known automakers, including Jaguar, Ferrari, and Aston Martin. Borrani outperforms all other wire wheel producers in several ways. Borrani wheels are one-quarter the mass of steel wire wheels due to their aluminium rims, and they are manufactured in Italy to the highest quality standards. Borrani wheels are the best way to dress up your MGB, and will add to the classic look. Visit their website by clicking the Borrani link at the top of the page.
---
MGB Fitment & Pressure Guides
---
MGB Tire Pressure Recommendations
| Tire | Front | Rear |
| --- | --- | --- |
| 165HR14 PIRELLI CINTURATO ™ CA67 | 28 | 32 |
| 165HR14 Michelin XAS | 28 | 32 |
| 185/70VR14 PIRELLI CINTURATO ™ CN36 | 26 | 30 |
MGB GT Tire Pressure Recommendations
| Tire | Front | Rear |
| --- | --- | --- |
| 165HR14 PIRELLI CINTURATO ™ CA67 | 28 | 32 |
| 165HR14 Michelin XAS | 24 | 28 |
| 185/70VR14 PIRELLI CINTURATO ™ CN36 | 26 | 30 |
MGB V8 Tire Pressure Recommendations
| Tire | Front | Rear |
| --- | --- | --- |
| 175HR14 Michelin XAS | 28 | 32 |
---
MGB Tire Pressure & Fitment Guides
---
1974 MGB car Tire Pressures by Michelin
1977 MGB car Tire Pressures by Michelin
1978 MGB car Tire Pressures by Dunlop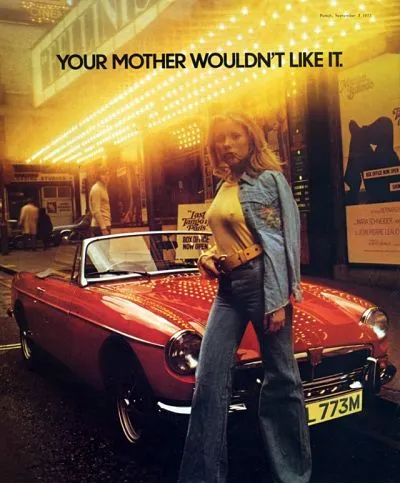 MG MGB Poster