---
Jaguar E Type Tire Pressures
---
To find tires for your Jaguar E-Type see our Jaguar E-Type Tires page.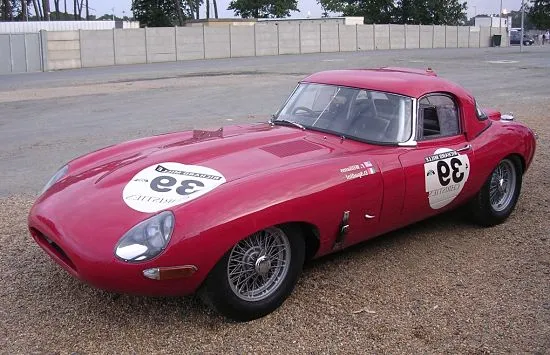 Jaguar E Type Racer
Tire pressure for an E-Type Jaguar ranges from 30-40 PSI depending on the specific model, the type of tires that you decide to fit, and pressure differences for front and rear tires.
To find the ideal tire pressures for your vehicle follow the link to our Tire Pressure Guide.

---

The E-Type Jaguar aka Jaguar XKE originally fitted crossply, 6.40H15 Dunlop RS5. Later the E-Type moved onto radial 185 VR 15 PIRELLI CINTURATO CA67, which are still produced today.
To find out more information on Jaguar E Type tires follow the link to our E-Type tire Section.

---

Some E Types were fitted with Route Borrani Wire Wheels, for more information follow the link to view our Borrani Wire Wheel Section.
---
Jaguar XKE Tires
---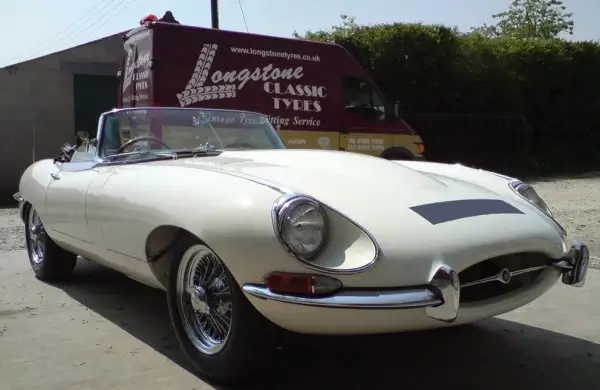 Jaguar E Type Convertible at Longstone
XKE or E Type?
To clear any potential confusion, this car is known as the 'Jaguar E Type' or the 'E Type Jag' in the UK, but it was sold in North American markets as the Jaguar XKE. To this end, either term could be used to refer to the same iconic British motor.
XKE Crossply Tires
The XKE was originally outfitted with 6.40H15 Dunlop RS5 crossply tires. Unfortunately, Dunlop no longer produces historic road tires, and there is no alternative crossply tire that we would consider putting to an e-type. Fortunately, another tire was supplied by Jaguar as a fitment for the XKE at the time.  Pirelli still offers the original 185 VR 15 PIRELLI CINTURATO CA67 in radial form. This Cinturato tire is still the ideal rubber for any series 1 or 2 XKE, whether it's a 2+2 or the standard coupe.
XKE Radial Tires
A 185 R 15 Michelin XVS would be a fantastic alternative for the E-type Jaguar. This period asymmetric tire allows automobiles of this era to drive in a straight line while cruising at high speeds on our modernized highways.
There is still an 185VR15 Dunlop SP Sport tire available with the original Aquajet tread design. However, this tire is not created by Dunlop, and we feel that the Cinturato or the XVSs would provide a better experience for the driver. The Cinturato is perfect for authenticity, especially on the series 1 E-type, as our research indicates that the SP Sport Aquajet was not produced until 1968.
XKE V12 tires
Again, while the ER/70VR15 Dunlop SP Sport tire with the iconic Aquajet tread pattern is still available, it is not actually manufactured by Dunlop. The Michelin 205/70VR15 XWX or the 205/70 WR 15 PIRELLI CINTURATO P5 are, we believe, the ideal tires for the V12 series 3 E-type Jaguar.
---
E Type Jaguar Borrani Wire Wheels
---
Many E Types were outfitted with wire wheels, and Longstone works with the finest in the industry. Ruote Borrani Milano is a leading supplier of wire wheels to a number of other well-known automobile manufacturers, including Ferrari and Maserati.  Borrani outperforms all other wire wheel producers in a variety of ways.  Borrani wheels weigh approximately 25% less than steel wire wheels since the rims are composed of aluminium, and they are manufactured by hand in Italy to the highest standards. We can't think of a better way to improve the look of your Austin Healey than with a set of Borrani wheels; visit their website by clicking the Borrani link at the top of the page.
---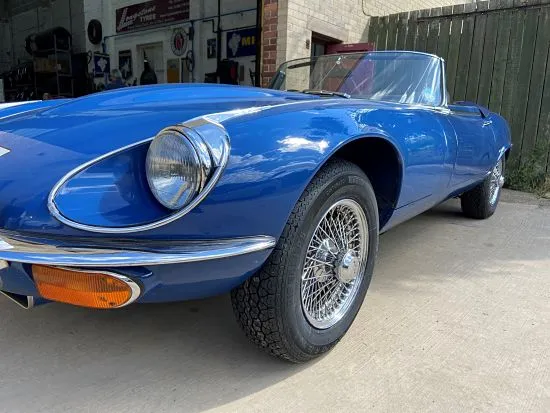 Series 3 Jaguar E-Type on Pirelli P5 Tires
---
E Type Jaguar Fitment & Pressure Guides
At Longstone we have sourced a variety of tire fitment guides ranging from the pre-war era to modern-classic cars, including fitment and tire pressure suggestions from top tire manufacturers such as Michelin and Pirelli. These guides can inform your crossply tire pressure and radial tire pressure choices. See below for the relevant fitment guide/s.
---
Jaguar E-Type Series 1 Tire Pressure Recommendation
| Tire | Front | Rear |
| --- | --- | --- |
| 640 H 15 Dunlop RS5 | 30 | 35 |
| 185 VR 15 PIRELLI CINTURATO CA67 | 36 | 38 |
| 185 R 15 Michelin XVS | 32 | 32 |
Jaguar E-Type series 2 Tire Pressure Recommendation
| Tire | Front | Rear |
| --- | --- | --- |
| 185 x 15 Dunlop SP Sport Aquajet | 40 | 40 |
| 185VR15 PIRELLI CINTURATO ™ CA67 | 36 | 38 |
| 185 R 15 Michelin XVS | 32 | 32 |
Jaguar E-Type 2+2 Tire Pressure Recommendation
| Tire | Front | Rear |
| --- | --- | --- |
| 640 H 15 Dunlop RS5 | 30 | 35 |
| 185 x 15 Dunlop SP Sport Aquajet | 40 | 40 |
| 185VR15 PIRELLI CINTURATO ™ CA67 | 36 | 38 |
| 185 R 15 Michelin XVS | 32 | 32 |
Jaguar E-Type V12 series 3 Tire Pressure Recommendation
| Tire | Front | Rear |
| --- | --- | --- |
| ER/70VR15 Dunlop Aquajet | 30 | 30 |
| 205/70WR15 PIRELLI CINTURATO ™ | 28 | 30 |
| 205/70VR15 Michelin XWX | 30 | 32 |
---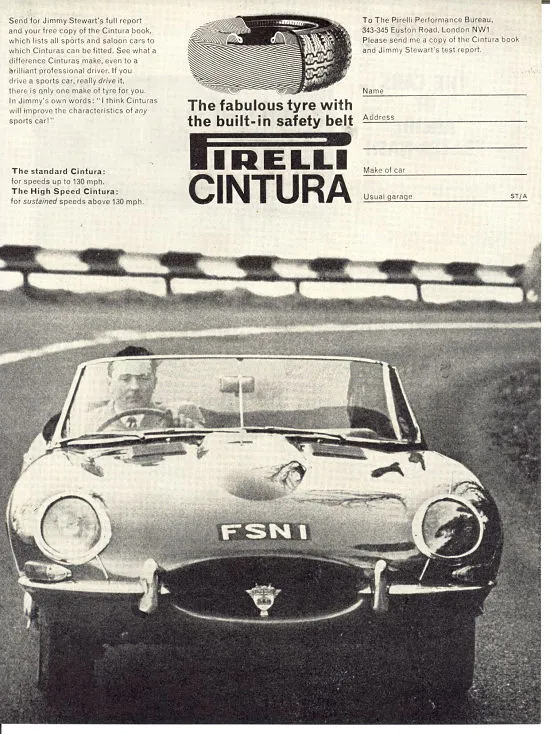 Series 1 Jaguar E on Pirelli Cintura Tires
1971-78 E Type Jaguar Tire Pressures by Dunlop
1972 E Type Jaguar Tire Pressures by Pirelli
1974 E Type Jaguar Tire Pressures by Michelin
1977 E Type Jaguar Tire Pressures by Michelin
1980 E Type Jaguar Tire Pressures by Pirelli